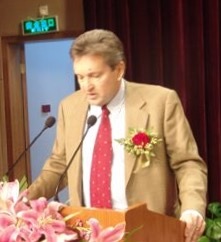 Ο Konstantin Schmid γεννήθηκε
CONSULTING, STRATEGY, BUSINESS DEVELOPMENT, SENIOR MANAGEMENT
Result-focused executive leader and MBA with extensive experience in driving long-term business success and profit growth, through the identification and the development of corporate strategies and market opportunities, for a variety of corporations, across diverse markets and industries. Adept in leading strategy-development teams and in executing business development, marketing and customer orientation strategies in mature and emerging markets. Successful track in bringing innovation into corporations. Exceptional interpersonal and communication skills to lead multi-function and multi-cultural teams.
Areas of expertise include:
Consulting, Interim Management, Change Management, Project Management, Corporate Strategy,
Marketing Strategy, Brand-building, Market Research, Product development, Market Share Growth,
New Market Development, Business Growth Planning, Customer Orientation / CRM, International Expansion
EDUCATION
1985 INSEAD, FONTAINEBLEAU - France / Master of Business Administration

1984 TECHNICAL UNIVERSITY OF MUNICH - Germany / Dipl. Ing.Univ. / (Mech.Engineering)
1978 DEUTSCHE SCHULE ATHEN - Greece / Abitur
PROFESSIONAL EXPERIENCE
2000 - present PRO - TARGET INTERNATIONAL Ltd. / Athens- Munich
Managing Partner of a specialized Business Development , Change Management and Strategy consultancy. Impacting performance of corporations and departments through Consulting and Coaching, as well as Interim Management assignments.
1997 - 2000 MERCEDES-BENZ HELLAS / Athens
Multinational Market Leader in Luxury cars,
Head of Service Marketing Department, and Member of Company's Management Board, reporting to General Manager
1991 - 1997 UNILEVER HELLAS- KNORR- CPC EUROPE / Athens
Multinational Market leader in FMCG and food products
Marketing & Business Unit Manager, reporting to General Manager
1989 - 1991 HENKEL AUSTRIA / Vienna-Austria
Multinational Market leader in Austrian detergent market
Group Product Manager, reporting to Marketing Director
Early Career G. RODENSTOCK Optische Werke / Munich-Germany (1986 -1989)
Market leader in optical lenses, spectacles and equipment
Top Management Assistant- to President, Prof. Dr. Dr. Rolf Rodenstock
Founding Member of ''Hellenic Customer-Service Institute'',
and Member of ''Marketing Academy of Greece''